Quick Links


1964-1991 Chevy and GMC Truck Brochures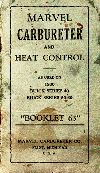 1930 Buick Series 40-50-60 Marvel Carburetor

The Automobiles of 1904


Chevy auto trans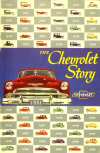 Chevrolet Story


TOCMP News
1960's cars movie You can help support this site by buying our new DVD, which features some great archival footage. More information
Note: the DVD page is a preview of our new site layout, coming soon.
Pre-War Fords in Europe: a detailed identification guide for Ford car and truck models from 27-38 is here.
Studebaker brochures from 1961 to 1966 are here.
Henry Ford's 1948 visit to Holland is recorded in this unique album.
Holley Model 4000 We've fixed the Holley Model 4000 carburetor manual, and moved it here.
New Old Radio Spot from Randoph Radio, we've got Anita Bryant singing for AC Spark Plugs. [Jan. 4, 2004]
Changes Look for some major improvements in the New Year, including many more scans and better access to the existing ones. Stay tuned! [Dec. 9, 2003]
1956 Chevrolet Here's another original scan from Jeff George's since-new collection: '56 Chevrolet brochure [Nov. 29, 2003]
Netscape 6.x We've made some changes so that this page works in Netscape 6.x. Thanks to Patrick Rodgers for pointing out the problem. [Nov. 10, 2003]
1948 Plymouth Charles Hurst has a great collection of original literature that he's sending us - here's a starter: 1948 Plymouth brochure, warranty and radio diagrams. Also, check out What's New Since '42. [Oct. 9, 2003]

New Brochures
1930 Nash Found behind the wall of a farmhouse being torn down, this brochure was scanned and sent in by John Vernon: 1930 Nash brochure
1946 Hudson Jeff George sends this original scan, and some of his recollections of the cars when they were new. Click here.
Good Housekeeping For Your Car, by Fisher. This booklet has excellent advice on looking after your General Motors automobile. From Charles Hurst. See it here.
1968 Ford Falcon Here's the complete brochure for the '68 Falcon, kindly supplied by Maxbarn. Click here.
1946 Chryslers Jeff George has filled out the collection of 1946 Chrysler brochures with this one covering models other than Town and Country.
Filling in the Fords Henk Smit sends Ford brochures to fill the gaps in our collection: 1953 Ford, 1960 Ford, 1967 Ford, 1968 Ford and 1969 Ford.
61-66 Fords Henk Smit of the Netherlands is helping us complete our Ford brochure collection, with the 1961 Ford, 1962 Ford (Dutch), 1963-64 Ford, 1965 Ford and 1966 Ford brochures.
55-59 Ford Brochures from Henk Smit: 1955 Ford, 1956 Ford, 1957 Ford (Dutch), 1958 Ford (Dutch) and 1959 Ford. Thanks, Henk!
Catching up with Maxbarn Here are brochures for the 1940 Chrysler, 1946 Chrysler Town and Country, 1957 Eldorado Brougham,
1972 Cadillac ,
1974 Corvette,
1975 Cadillac,
1989 Buick, and 1982 Chevrolet.
1949 Lincoln Jeff George has saved these since they were new, and now they're here for the world to see: 1949 Lincoln brochure
1946 Chevrolet Another great one is here: '46 Chevrolet Brochure
New Manuals
1925-1928 Diana Henk Schaatsbergen has contributed an exceedingly rare manual, for the Diana, that was produced in St. Louis, Mo. from 1925-28. See the full 143-page manual here.
1975 Olds Consumer Info We've added the Consumer Information Pamphlet to the 1975 Cutlass Owner's Manual, both kindly supplied by ThomasS. Click here for both.
1957 Chevy Owner's Manual and Accessories booklet: Thanks to Ken Deatrick, Jr. we've got them here.
1960 Ford Owner's Manual Bill Schmickle sends this fine scan of the full-size Ford owner's manual. Click here.
1920-24 Buick and Apperson wiring diagrams From a 1925 collection, John Inge sends us these rare diagrams: click here
1968 Buick The owner's manual for the full-size '68 Buicks (Buick Electra 225, Wildcat, & LeSabre) is here, thanks to ThomasS: '68 Buick Owner's Manual
1950 Mercury Robert Lucas of oldhiways.com has donated this great scan of the 50 Mercury Owner's Manual. Click here.
Wiring Diagrams ZenX sends us diagrams for 1964 Ford Trucks from F100 to F750 here.
1954 Chevrolet Owner's Manual From Packard53, we've got a fine scan of the 1954 Chevrolet Car Owner's Manual.
Ford 6 cyl 1 bbl carb The Ford Model 1100 carburetor was used on Ford trucks from 1961 to 1967. ZenX has kindly provided an exhaustive guide to F1 service here.