tocmp home test
News
Holley Model 1901 Carb Manual
From 1952, this is the original Holley service manual for the Model 1901 carb on V-8 Ford trucks, Mercury and Lincoln cars. Click here.
1911 Buick Brochure
Click here
Holley 2110 Dual Downdraft Carburetor
The Holley factory manual for this carb from July, 1957.
Holley Carburetor Manual
In the mid-50's Holley introduced their famous modular carb design, still produced today. Here's an original service manual from 1959 for the 2300, 4150 and 4160 carbs.
1946 Mercury Truck Brochure
Mercury trucks were sold in Canada, and were similar to Fords. This is the brochure for the '46 Merc trucks. Click here.
1951 Chevrolet Accessory Installation Manual
This details the installation of dealer-installed accessories for '51 Chevy cars and trucks, and was intended for use by the new car dealer. See it here. Contributed by Keith Hardy.
64 Oldsmobile Transmissions
We've got the 1964 Oldsmobile Service Manual, No. 2, online. This has detailed information on the Hydra-Matic, Jetaway and Syncromesh transmissions (and clutch). Click here.
---
Online now
general manuals
International Automobile Handbook (1927)
1931 Automobile Carbureter Manual
wiring diagrams
1957-1965 Ford Wiring Diagram
1957-1965 Lincoln Wiring Diagram
1957-1965 Buick Wiring Diagram
1957-1965 Cadillac Wiring Diagram
1957-1965 Chevrolet Wiring Diagram
1957-1961 DeSoto Wiring Diagram
1957-1965 Pontiac wiring diagram
carburetors
1954 Lincoln-Mercury Holley Model 2140 Carb
Marvel Model 'T' Carb for 1930 Buick
1957 GMC truck Holley 885 JJG, JJGC carb

1953 Holley 2140 for '53 Ford, Mercury and Lincoln

1953 Holley AA-1 for GMC truck

Holley Model 1904 for '53 IHC

1955 Holley 4000 for Lincoln, Mercury and Ford

Holley Model 885-JJG for '55 White

1956 Holley Model 2110-EE for Ford
distributors
Holley for 1955 Ford, Mercury & Lincoln
Holley for 1955 Ford, Mercury & Lincoln
transmissions
1977 Turbo 350 Transmission (Buick)
1964 Oldsmobile Hydra-Matic, Jetaway and Syncromesh
vehicle service manuals
1973 AMC Technical Service Manual
assembly manuals
1951 Chevrolet accessory installation manual
owner's manuals
1951 Chevrolet car owner's manual
1952 Chevrolet car owner's manual
not ours, but darn good
GM passenger car assembly manuals for the 1955, 1956 and 1957 Chevy car
1929-1959 Chevy wiring diagrams

1968 Dodge Dart Sales Brochure

1957 Studebaker Owner's Manual

1987 Avanti Owner's Manual
Feature Marque

Nash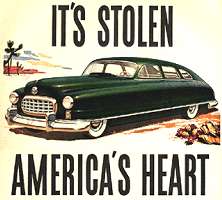 1950 Nash ad (enlarge)

specs for Nash and other makes
listing of Nash Metropolitan sites
Motor Trend / February 1963 article on Rambler history


---
The Old Car Manual Project
Some general information:
What is "the old car manual project"?
The idea is to scan manuals for old, vintage or antique American vehicles and their components and make them available on the web, for free.
Why are we doing this?

Why not? But really - one of the hardest parts of restoring or servicing old machines is getting decent technical information. Often, it's difficult, impossible or expensive to obtain. We think that this kind of information should be freely available, as a public resource for the preservation of our industrial history.
Who are we?

We are some guys who like old iron. We can be contacted at xerog@xerog.com
---
factory brochures